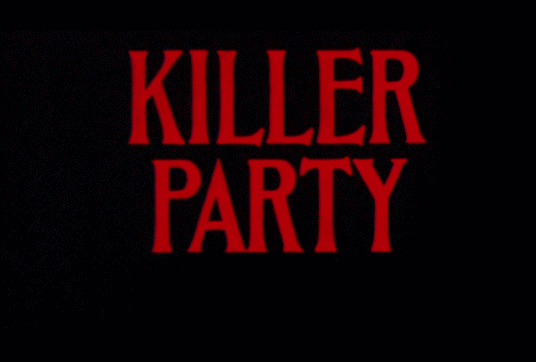 Home | News | An Interview With Elaine Wilkes | An Interview With Composer John Beal| The Cast | The Cucumber | Music | Order The DVD | Filming Locations|
Driving With Stosh | Vance's Retro Corner | Trivia | Lost Gore | The Hysteria Continues | The Fans Speak! | Posters! | Ultimate K.P.Fan Reviews! | Websites We Recommend! | Sign The Petition To Get A Special Edition on Blu Ray| About The Webmaster| Killer Party Message Board




Thanks to my buddy Vance, who graciously typed up this original Fangoria article for me, I am now able to post it here for you guys to read. Man, you have been awesome with all of the information, and help. Thank you so much!!
FOOL'S NIGHT: Previously mentioned in Fango #42 under the title The April Fool, Fool's Night is the title for the film as we go to press, and we are informed that it should be in release through MGM/UA by the time you read this. The film revolves around three female students pledging a sorority. Twenty years earlier this sorority used to be a fraternity where a student died during a hazing. The house has been closed until now. It seems the house might carry a curse, and then resulting horrific action culminates at the sorority's April Fool party.
The Film is described as a horror-comedy. Producer Michael Lepiner says, "I always felt that if you could combine both elements of horror and comedy, it would attract a broader audience. In addition to those people who like horror films, you'd attract an audience that perhaps might gravitate to something like an Animal House or Police Academy." The comedy in the picture involves, to a certain extent, the sort of pranks and antics that you'd expect to find in a movie taking place on a college campus, but it also is very much tied in with the April Fool theme of the film. According to Lepiner, the movie intends to keep the audience guessing as to whether the potentially dangerous situations are real or whether they are April Fool put-ons.
Lepiner points out that the third youth oriented element in Fool's Night, in addition to horror and comedy, is music. The film features several rock 'n' roll tunes and also boasts an elaborate musical production number, to be used, says Lepiner, in a surprising way.
The screenwriter for Fool's Night is Barney Cohen who scripted last year's Friday the 13th: The Final Chapter. Lepiner says that he and executive-producer Kenneth Kaufman were just starting to play Fool's Night when The Final Chapter came out. They had spoken with Cohen about other possible projects before, and when they talked to Cohen about "doing something in the horror-comedy vein, he just lit up. It was something he always wanted to do."
Also involved in the project are director William Fruett (Smasms) and director Paul Bartel in one of his non-directing acting roles as the pretentious, befuddled Professor Zito. To correct a mistake in our issue #42 report, Gordon Smith is in charge of all special effects for the picture, not just the non-makeup effects.